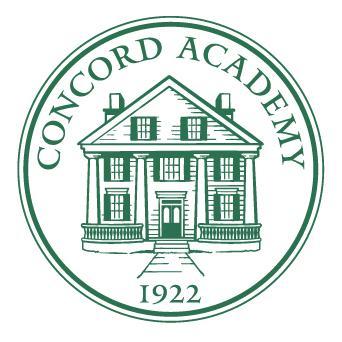 Accredited by NEASC
Admissions Counselor
Staff / Full-Time
Concord Academy, Concord, MA
Overview:
Concord Academy, an independent, co-educational boarding and day school renowned for its world-class faculty, passionate students, and graduates who make their mark on the world, seeks to fill an Admissions Counselor for the 2022-2023 academic year.
Founded in 1922, Concord Academy has long balanced high academic standards with a focus on educating the whole student through academics, the arts, athletics, and cultural opportunities. Self-expression, storytelling, and careful listening are hallmarks of the Concord Academy experience. We actively seek applicants who reflect and support our mission-driven commitment to creating and maintaining a diverse and equitable school community. Successful candidates will demonstrate a strong desire to incorporate inclusive teaching practices and advance the tenets of the school's mission.
Concord Academy Mission Statement 
We are a community animated by love of learning,
diverse and striving for equity,
with common trust as our foundation.
Honoring each individual, we challenge and expand
our understanding of ourselves and the world
through purposeful collaboration and creative engagement.
We cultivate empathy, integrity, and responsibility
to build a more just and sustainable future.
Concord Academy seeks a highly motivated individual to be part of an exciting team. Under the supervision of the Director of Enrollment Management, the Admissions Counselor will assist with recruiting, selecting, and enrolling a dynamic class of students every year. The Admissions Counselor will travel approximately six weeks per year, review applications, and will have programmatic responsibilities throughout the admission cycle. The Admissions Counselor assists in the daily operations of the office including database management, customer service, and other general office tasks.
Responsibilities: 
Plans recruitment travel.
Conducts up to four weeks of travel (potentially including international travel) including nights and weekends and evening/weekend admissions work including conducting off-campus visits for prospective students, families and any other related events to represent the school at admission events and other forums with various constituent groups.
Manages student interaction with the admissions office including working with student tour guides and admissions summer interns designing and leading training opportunities, developing programming for the groups, and innovating around best initiatives for the groups.
Assists in developing and implementing programs on and off campus for prospective students and their families.
Interviews prospective students and their families and produces a comprehensive interview write-up.
Serves as a member of an admissions committee who participates in the careful, thoughtful, confidential review of applications.
Partners with other offices, chiefly Marketing and Communications, to build and execute a social media strategy in support of attracting and engaging prospective students and families
Develops a genuine understanding and appreciation of all facets of Concord Academy by participating in the daily life of the school through serving as an advisor to current students and attending morning chapels and announcements, faculty meetings and other school events.
Other duties as assigned by the Director of Enrollment Management.
Qualifications: 
Bachelor's degree in a related area.
Excellent interpersonal, writing, communication, analytical and organizational skills are critical.
Must possess energy, enthusiasm, and a sense of humor.
Experience working with students and parents is strongly preferred, particularly in independent boarding schools or colleges.
Excellent interview skills with the ability to relate to a wide range of students and their families.
Exceptional attention to detail and the ability to problem-solve.
Adept in Word, Excel and Google applications and possesses the ability to quickly learn and adapt to new programs such as the office's CRM, Ravenna.
Demonstrable experience using social media, ideally as a recruitment tool.
Work effectively with a wide range of constituencies in a diverse community.
Ability to consistently provide a high level of customer service and responsiveness.
Strong ability to work independently and as a team member.
Ability to multitask and meet demanding time frames.
Ability to exercise a high degree of professional judgment and discretion while maintaining a high level of confidentiality.
Ability to be mobile in a multi-story building and attend meetings throughout campus. Extended periods of sitting, standing, and working at the computer.
This is a year-round position. Salary is commensurate with experience, and this position is benefits eligible. Candidates must successfully complete a criminal background check. In order to promote health in our school community, employees are required to be fully immunized against COVID-19 upon employment, unless a medical or religious exemption applies.
Interested candidates, please submit a letter of interest and a resume via the ADP portal addressed to: Director of Enrollment Management, Marie Myers.
To learn more about Concord Academy, please visit our careers page:
https://concordacademy.org/about/careers-at-ca/ or our website: www.concordacademy.org. We are unable to respond to phone or email inquiries.
Concord Academy
Concord, MA
High School
Day, Boarding
All Gender