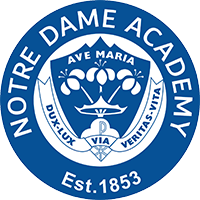 Accredited by NEASC
Administrative Assistant- Principal's Office
Staff / Full-Time
Notre Dame Academy, Hingham, Hingham, MA
Notre Dame Academy- Hingham, an all-female college prep high school educating young women in grades 7-12, is seeking a full-time Administrative Assistant for the President's Office. Notre Dame Academy is a vibrant, Catholic learning community, sponsored by the Sisters of Notre Dame de Namur. The Academy guides young women in their personal faith formation, challenges students to pursue academic excellence, and encourages social responsibility on behalf of global justice.
ADMINISTRATIVE ASSISTANT – PRESIDENT'S OFFICE
GENERAL OVERVIEW
The Administrative Assistant – President's Office is responsible for providing administrative support for the President and the Special Assistant to the President. The ideal candidate is organized, customer service oriented, detail oriented, a multi-tasker, meets deadlines and exercises flexibility, sensitivity, and discretion. This is a full-time, 12-month position that includes occasional evening and weekend work.
CORE RESPONSIBILITIES
• Manages the calendar of the President, utilizing discretion and an understanding of priorities in scheduling internal and external meetings.
• With the special assistant, prepares materials and agendas for the president's internal and external meetings.
• Communicate with internal and external constituents on behalf of the president and assists with preparing correspondence.
• Managing the day-to-day needs of the President's office, including serving as a greeter, coordinator, and problem-solver in interacting with all constituents (students, parents, faculty and staff).
• Coordinate logistics for meeting needs.
• Provides administrative support for and collaborates with the Special Assistant as needed.
• Other duties as assigned and necessary.
EDUCATION AND EXPERIENCE REQUIREMENTS
• Proficiency with Microsoft Office Products – Outlook, Excel, Word, PowerPoint along with student information systems (AdminPlus experience preferred)
• 2-3 years experience as an administrative assistant preferably in an academic setting
• Bachelors degree or related experience
THE IDEAL CANDIDATE POSSESSES:
• An understanding, commitment, and appreciation for a Catholic, all-girls educational environment and NDA's mission and core values
• Discretion and confidentiality
• Strong interpersonal, collaboration, and communication skills
• Professionalism, accountability, and customer service
• Excellent time management skills
• Grace under pressure
• Knowledge of business office practices and procedures required
*Notre Dame Academy seeks to create a working and learning environment that reflect the society and community in which we are located, and we actively encourage candidates of all backgrounds to apply.
Notre Dame Academy, Hingham
Hingham, MA
Middle School, High School
Day
Girls