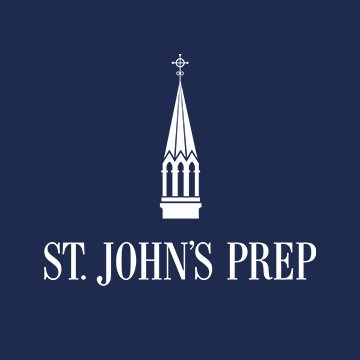 Accredited by NEASC
Administrative Assistant for Academics / Registrar
Staff / Full-Time
St. John's Prep, Danvers, MA
About St. John's Prep
St. John's Prep is an inclusive, Catholic, Xaverian Brothers Sponsored School for young men in grades 6 through 12. Founded on the Xaverian values of compassion, humility, simplicity, trust, and zeal, we educate students to be, do and stand for good in the world. We enroll approximately 1,500 students from more than 90 communities in Massachusetts, New Hampshire, and Maine.
Position Overview and Responsibilities
St. John's Prep seeks an administrative assistant / registrar who will be responsible for academic support functions across grades 6 through 12. In addition to a willingness to support the mission and vision of St. John's Prep, the ideal candidate will be joyful, welcoming, flexible, and organized, as well as able to prioritize tasks and work effectively with all members of the St. John's Prep community. This is a 12-month position; working hours are 7:00 am to 3:00 pm.
Responsible for and manages the student information system (Blackbaud) related to academics.

Assist administrators and school counselors with academic schedule development and grade changes.

Provide administrative support for Academic Council, the curriculum review process, and other strategic operations. 

Organize and follow through on summer course remediation.

Prepare reports connected to the academic life of the school (i.e. student lists, grade distributions, course enrollment, class sizes, academic ineligibility, room use etc.)

Inform administrators and/or school counselors of student credit deficiencies, errors, or unusual placements.

Prepare honor roll, report cards, and progress reports.

Maintain student transcripts.

Respond to inquiries regarding graduation verification and transcript requests.

Compose and send letters and notices to students and parents regarding academic affairs.

Respond to inquiries from faculty and staff for the purpose of providing information and or direction.

Prepare academic information for the weekly faculty/staff community bulletin and parent newsletter.
High School Responsibilities 
Coordinate day-to-day functioning, greet visitors, and process inquiries in the Xavier Hall office, where the administrative assistant / registrar is located.

Manage the Xavier Hall Office (i.e. order office supplies, paper, copier toner, sort mail, and report copier or elevator issues).

Coordinate substitutes and classroom coverage during faculty absences.

Organize the parent-teacher conference schedule.

Coordinate the underclass and senior student final exam schedule.

Assist with the National Honor Society induction ceremony.

Coordinate the PSAT/ACT proctoring schedule.

Assist with graduation.

Coordinate academic awards and assemblies.

Assist with organizing the parent back-to-school nights.

Other duties as assigned by the Assistant Principals of Academics.
Skills and Competencies
Ability to prioritize tasks and work effectively with all members of the school community

Ability to write and communicate effectively via email. 

Ability to work some additional hours and evenings.

Database management, Excel, Word, and Google Apps for Education (Gmail and Google Docs).
Education and Experience
St. John's Prep is committed to building a diverse and inclusive campus community. We welcome applications from underrepresented groups. We seek applicants who demonstrate a commitment to multiculturalism and diversity that is manifested in classroom practice, student engagement, interpersonal communication, and curricular decisions. For more information about our academic, spiritual and student life programs, please visit www.stjohnsprep.org. 
Interested candidates are asked to send a cover letter, résumé to Tracii Schaeublin, Assistant Head of School for Human Resources, at tschaeublin@stjohnsprep.org. Please, no phone calls. 
March, 2023
St. John's Prep
Danvers, MA
Elementary, Middle School, High School
Day
Boys