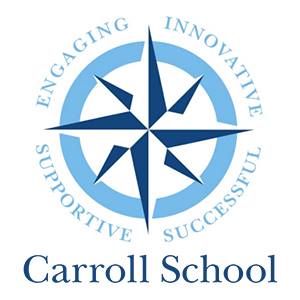 Accredited by NEASC
Activity Director
Staff / Seasonal
Carroll School, Lincoln, MA
Activity Director 
Summer Program: Wednesday, June 28, 2023 to Wednesday,  August 2, 2023 (no program July 3rd and July 4th)
Hours: Monday-Friday, 8:15 am – 4:15 pm
Staff Orientation: June 26th and June 27th
About Carroll School:
Located in Waltham, Lincoln, and Wayland, Massachusetts, Carroll School is an independent day school that serves students with language-based learning differences, such as dyslexia. Carroll School empowers children to become academically skilled students who are strong self-advocates and confident lifelong learners prepared to enter other academic settings. Carroll is an inclusive community committed to embracing diverse strengths, identities, and lived experiences in order to give each child what they most need to thrive. 
Summer School Overview:
Summer@Carroll is a five-week summer school program for students entering grades 1-9 who have been diagnosed with a language-based learning difference, such as dyslexia. Students participate in academic classes and recreational programming each day. 
Carroll School is an equal opportunity employer that offers competitive salaries.
Position Summary:
The activity director role is a full-day position on our Waltham (grades 1-4) and Lincoln (grades 5-9) campuses. Each activity director will be assigned to one age range: grades 1-2, 3-4, or 5-9. This position reports to the Enrichment Supervisor. Summer@Carroll activity directors plan and lead students through activities each afternoon in a variety of recreational and multi arts subject areas. This position requires a candidate with a flexible, creative, and collaborative mindset.
Responsibilities:
Generate ideas and develop specific plans for 2-3 recreational activities for each afternoon

Communicate activity instructions clearly to large groups of students and staff

Coach counselors on how best to support student participation in planned activities

Plan activities with content that varies over the course of the program, addressing a balance of topics such as field games, creative arts, movement, water play, science, team building, etc.

Facilitate structured opportunities for students to connect socially and explore different areas of interest

Order and organize supplies needed for afternoon activities

Collaborate with other activity directors to support the needs of the group

Communicate with colleagues to organize the sharing of materials, campus spaces, weekly themes, etc.

Support needs that may arise in academic or afternoon programming (e.g., substitute in case of teacher absence, provide extra support to a student in a morning academic class, etc.)

Collaborate effectively and proactively with the administrative team and other staff of Summer@Carroll

.
Qualifications:
Bachelor's Degree and experience working with children

Previous summer program/camp experience 

Proficient written and verbal communication skills

Fully vaccinated against Covid 19
To Apply:
Carroll School
Lincoln, MA
Elementary, Middle School, High School
Day
All Gender