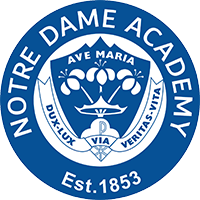 Accredited by NEASC
7-12 Music Teacher
Faculty / Full-Time
Notre Dame Academy, Hingham, Hingham, MA
7-12 Music Teacher
Notre Dame Academy, Hingham, Massachusetts–an all-female college preparatory middle and high school educating students in grades 7-12–is seeking a full-time 7-12 Music Teacher with high energy, a creative spirit, and a passion for empowering young women. Notre Dame Academy is a vibrant, Catholic learning community, sponsored by the Sisters of Notre Dame de Namur. The Academy guides young women in their personal faith formation, challenges students to pursue academic excellence, and encourages social responsibility on behalf of global justice.
NDA is seeking an experienced music teacher with a creative spirit and a passion for empowering young women to develop themselves artistically. Under the supervision of the Principal, the 7-12 Music Teacher helps students grow in their study and faculty of music through a variety of experiences which include music theory, vocal and instrumental ensembles, theater, and listening.
ESSENTIAL DUTIES AND RESPONSIBILITIES
● Teaches general music to 7th-12th grade students including harmony, appreciation, history, and ensemble.
● Supports school liturgies and Mass with appropriate musical selections and accompaniment.
● Utilizes repertoire of all types of music literature, including traditional and contemporary that are appropriate for the ages and skill levels of students.
● Provides opportunities for music ensembles including choral & musicals.
● Works closely with the theater faculty in support of performance opportunities, including the school musical.
● Plans, rehearses, and directs students in musical programs for school and community.
● Differentiates music curriculum to meet the needs of individual students and the student body.
● Manages a balanced music program, and organizes daily class time so that preparation, rehearsal, and instruction are accomplished.
● Maintains standards of student behavior to provide an orderly, productive environment during practice, group rehearsals, and music performances.
● Evaluates each student's musical growth and contribution to the performance of the group that allows everyone to contribute.
● Communicates clearly with parents and school faculty/staff on the progress of individual students.
● Maintains care/responsibility for school-owned music, musical instruments, and equipment to prevent loss or abuse.
QUALIFICATIONS REQUIRED
● Minimum BA in Music or Music Education (Master's preferred)
● Ability to work with musicians at all skill levels
● Strong instrumental skills, including piano accompaniment
● Holds Massachusetts Certification in Music Education
Notre Dame Academy, Hingham
Hingham, MA
Middle School, High School
Day
Girls