Webinar
September 1, 2021
, 12:00 pm - 1:00 pm EST
Top 10 Insurance Risk Management Tips for 2021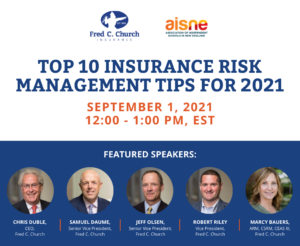 A webinar for Business Officers, CFOs, Administrative Leaders, Heads of School, Assistant Heads of School, Risk Managers, and others involved in insurance or managing risk at independent schools
Facilitated by:
Becky Biggs, Director of Professional Development, AISNE
Featuring:
As sophisticated insurance buyers, you and your team know that protecting your school from liability extends beyond the transfer to insurance. Acquire tips for mitigating your risk, reducing your liability, and improving the way insurers view your business. Set the scene for a safe and successful year for you and your school community by implementing some or all of these strategies.
In this session attendees will:
Understand the current insurance market and how to best position your school
Learn about current and emerging risks
Discover ways to further mitigate liability
This will be an interactive session with questions and discussion woven throughout.