2022 Health and Wellness Conference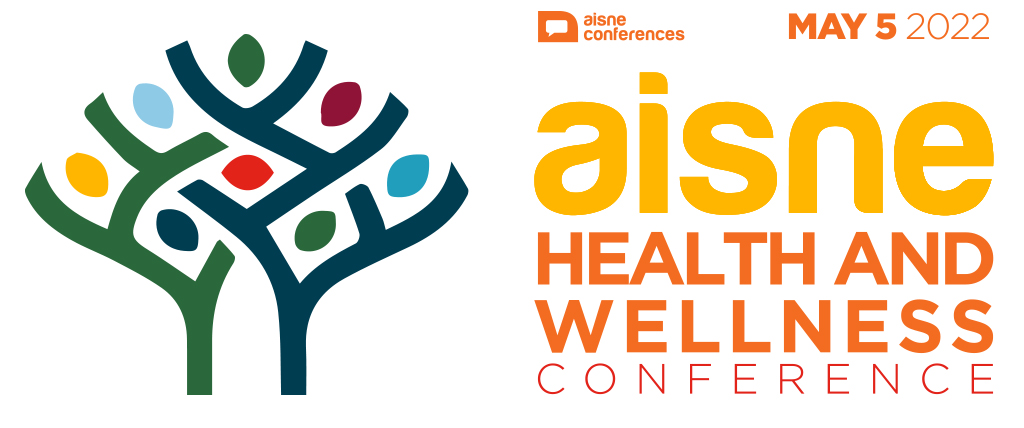 May 5, 2022
Four Points by Sheraton, Norwood
1125 Boston-Providence Turnpike
Norwood, MA 02062
Rediscover the joy of teaching and being in community with your peers at our first in-person Health and Wellness conference in nearly three years. Our program will focus on moving forward with purpose, confidence, and clarity.
This will be a day of learning, connection, reflection, and rejuvenation.
Hotel
There are a limited number of hotel rooms for the evening before the event (May 4) at the discounted rate of $155.00. To book, call the hotel directly at 781-769-7900 ask for in-house reservations. Be sure to mention the AISNE Health and Wellness Conference.
This rate expires on April 6, 2022. After April 6 rates will vary.
Register
| | | |
| --- | --- | --- |
|  Attendees | Member Rate | Non-Member Rate |
|  1 – 2 |  $299 |  $449 |
|  3 – 4 |  $279 |  $399 |
|  5+ |  $249 |  $379 |
---
Agenda-at-a-Glance
8:00 – 8:45 a.m. | Breakfast & Networking
8:45 – 9:00 a.m. | Welcome & Morning Mindfulness
9:00 – 10:15 a.m. | Opening Keynote: Tal Ben-Shahar
10:30 – 11:45 a.m. | Topic Sessions
12:00 – 1:00 p.m. | Lunch
1:15 – 2:45 p.m. | Keynote & Working Session: Juliana Chen & Tai Katzenstein
2:45 – 3:00 p.m. | Reflections
3:15 – 4:30 p.m. | Wellness Sessions
---
Agenda
8:00 – 8:45 a.m. | Breakfast & Networking
 
8:45 – 9:00 a.m. | Welcome & Morning Mindfulness with Susan Yao
We will begin the day with a brief welcome from Claire Leheny, AISNE Executive Director, followed by heart-and-mind-opening exercises led by Susan Yao. ​​Susan is a practicing Buddhist who believes that collective thriving is possible when we learn how to be in community together in ways that are supportive and authentic.
9:00 – 10:15 a.m. | Opening Keynote: Tal Ben-Shahar
"Happier, No Matter What: How to Cultivate Hope, Resilience, and Purpose in Hard Times"
Tal Ben-Shahar combines scientific studies, research, self-help advice, and spiritual enlightenment to form a set of principles for everyday living that is grounded in the emerging "positive psychology" movement. Learn how to accept positive thinking, become more connected and fulfilled, and happier. Ben-Shahar will discuss how to build resilience through happiness, and how it can be a shield against unprecedented challenges, adversity, and life's many curveballs.
Tal Ben-Shahar, PhD, is an author and lecturer who examines how the lack of privacy in the online realm affects individuals. Tal is currently a Positive Psychology lecturer at Harvard University, and consults and lectures internationally to at-risk populations and Fortune 500 companies, in hopes of educating them about privacy and its importance. He holds a PhD in Organizational Behavior from Harvard University. Ben-Shahar's works are internationally acclaimed. They include Happier and Being Happy and A Clash of Values: The Struggle for Universal Freedom. Tal has made numerous television appearances, The Daily Show with Jon Stewart, and was featured in the 2012 documentary Israel Inside: How a Small Nation Makes a Big Difference.
10:30 – 11:45 a.m. | Topic Sessions

Intersection of Movement, SEL, and DEI in our Schools
Darren Bell
Explore ways to embed lessons of equity, inclusion, and social emotional learning into recess, physical education, and sports through activities, storytelling, and movement. Take this time to connect and reflect on the past two years and how it has changed the way we (teachers and students) are able to perform and elevate under stressful conditions. Many lessons have emerged from the pandemic; we've learned how important human connection and nurturing relationships are vital to navigating teaching at this time. This conversation will give you tools to communicate, empathize, and better understand yourself and your students in order to take on challenges in an extremely challenging world. Bring lessons, activities, and stories for the group to discuss.

Darren Bell is currently head of Athletics/P.E departments at Chiaravalle Montessori School, a K–8 school. Darren is also Co-creator/Creative Director for the Mindful Athlete lifestyle brand.
Belonging for All: Centering the Experiences of Student-Athletes with Marginalized Identities
Nevin Caple
This session will center the needs of student-athletes while providing an exploratory space for coaches, athletic directors, and administrators to develop inclusive leadership skills. Participants will have the opportunity to engage in meaningful dialogue across difference, define their role as an inclusive leader, and learn sport-specific inclusion strategies for creating a culture of belonging in the school community. This session is particularly relevant to athletics professionals seeking new ways to promote inclusion and belonging for student-athletes who self-identify as Black, Indigenous, People of Color (BIPOC) and/or LGBTQ+.
Nevin is a consultant, educator and national thought leader on diversity, equity, inclusion, and social justice. She is the founder of Return On Inclusion, an online learning platform for coaches and administrators to develop inclusive leadership skills. Nevin received her Bachelor of Science from Fairleigh Dickinson University in 2002 while playing on the Women's Basketball Team. She resides in Brooklyn, New York with her wife, Colleen McCaffrey.
Be Body Positive: 5 Practical Tools to Help Your Students Build Resilience in Challenging Times
Dariana Guerrero & Connie Sobczak 
In this interactive workshop, you'll learn how the Be Body Positive Model's five Core Competencies can support your students—and you—during rocky times. These Competencies build resilience by helping students cultivate a positive relationship with their bodies, and teach self-compassion skills in honest learning environments. Their goal is to help students breakdown negative thoughts, such as perfectionism and depression, and build them up with positive self-images.
In this workshop, you will experience firsthand some of the activities that bring the Competencies to life, and hear a case study of one school's Be Body Positive program.
Dariana Guerrero is a published author, board member at The Body Positive, and an English teacher at Noble and Greenough School in Dedham, MA. Connie Sobczak is the founder and executive director of The Body Positive, and author of Embody: Learning to Love Your Unique Body (and quiet that critical voice!).
Strategies & Tools to Help Your Community Deal with the Anxiety Pandemic
Will White & Nichol Ernst, Summit Achievement 
Educators know the amount of anxiety in our communities today is unprecedented. This workshop will share tools and strategies to help students, faculty, parents, and yourself deal with anxiety more effectively. We will discuss drivers of anxiety and how those drivers can be mitigated to turn down the volume of anxiety. Key takeaways include de-escalation and prevention techniques, as well as a 'decision tree' to help schools decide when it's time to seek outside support. You will leave with a greater knowledge about anxiety and tools effectively address it.
Summit Achievement is an AISNE Supporter that fosters lasting change for students and families using residential treatment, classroom academics, and outdoor adventures in an evidence-based and clinically-driven community.
Mindfulness in the Classroom
Ivy Alphonse-Crean and Marie Nagode
Explore ways to bring mindful moments into all aspects of the school day. In this workshop you will be guided through a series of activities and small group discussions. This work will center on techniques for creating a calm classroom, managing smoother transitions, and establishing other routines to support the social and emotional wellness of students and adults. This is an active workshop—we will practice mindful listening, breathwork, and movement. You will leave refreshed and energized by skills and strategies that you can put to work right away!
Ivy Alphonse-Crean is the Director of Diversity, Equity and Inclusion at Dedham Country Day School in Massachusetts. She was previously an English teacher and dean at an independent school in New York City. She enjoys creating brave spaces for honest dialogue based in a pedagogy of affirmation and empathy.
Marie Nagode is a yoga and mindfulness instructor at Dedham Country Day School in Massachusetts.
Scattered Kids: Motivating Outside-the-Box Thinkers for Success in School & Life
Sharon Saline
Do you know children and teens with ADHD, ASD, or learning disabilities who struggle with starting and completing their work? Many neurodivergent students cope with procrastination, perfectionism, and low self-esteem. Successfully motivating and supporting these kids relies on a strength-based, collaborative approach that synthesizes cognitive behavioral interventions with mindful awareness.
In this workshop, we will explore the challenges of teaching scattered students and offer effective strategies for how you can better support them academically and personally. Learn essential tools for improving executive functioning skills specifically related to motivation, strategies for reducing procrastination, and techniques for building self-confidence. Come away able to identify the executive functioning skills that affect motivation, and ways to teach goal-directed persistence, time management, and organizational skills that stick. You'll return to your students with an understanding of perfectionism in neurodivergent learners, and how to reduce it, as well as clarity around how parents can support their neurodivergent children's learning development.
Dr. Sharon Saline is an award-winning author and psychologist with more than 25 years of clinical experience supporting children, adolescents, and families with ADHD, learning disabilities, and mental health issues.
Substance Use: Trends & Treatment
Chris Thurber
No matter your role at your school, you share a commitment to student well-being. Understand the landscape of national trends in adolescent substance use and hear how pandemic-related factors contribute to risks. You will be provided with essential health education content, drug-prevention strategies, and practical guidance on behaviors to look for when you're on duty. Learn tips for responding to non-life-threatening situations and best practices for monitoring and motivating durable change in students with a recent history of substance use. 
Dr. Christopher Thurber is a board-certified clinical psychologist, educator, author, and father. He has served as a psychologist at Phillips Exeter Academy for more than 20 years.

Mindful Resilience and Post Traumatic Growth Beyond the COVID Crisis
Christopher Willard  
How can we ensure that our students and communities emerge from the pandemic more resilient than ever? We will explore the foundations of resilience and post-traumatic growth—looking to positive psychology, neuroscience, and mindfulness—as we explore  tools that have boosted human resilience in the face of adversity for generations. This workshop will include many experiential exercises along with simple takeaway tips for yourself and your schools, as we transition from pandemic to endemic in the coming years.
Dr. Christopher Willard is a clinical psychologist, author, and consultant. He is the author of numerous books and is a professor at Harvard Medical School.
12:00 – 1:00 p.m. | Lunch
1:15 – 2:45 p.m. | Keynote & Working Session: Juliana Chen & Tai Katzenstein
"Caring for Oneself: Grief, Growth & Healing"
Join us for this interactive presentation focused on the impacts of uncertainty and loss in the setting of COVID-19 and the role of both burnout and self-care in those who care for others. This is an opportunity to self-reflect on the insights and range of challenges and healing moments we all have had while caring for students–and the other young people in our lives–since the start of the pandemic. Your work will be facilitated by Tai Katzenstein, PhD and Juliana Chen, MD, and will include a brief presentation, as well as small-group discussion. You will have the opportunity to connect, share and learn together and from each other. Individuals in all roles, from all settings, and any level of education/training or professional experience are welcome and will benefit from this reflection. 
This session will also offer the opportunity to make connections with your fellow attendees. We will organize the room by roles to allow for idea-sharing, professional reflections, and generative conversations.
Juliana Chen, MD, and Tai Katzenstein, PhD, facilitate parent groups and regularly give talks on parenting, fostering resilience and self-care, and supporting the emotional wellness of parents and families. They have a combined parent-focused practice, Caring for Parents, Caring for Kids and jointly serve as co-directors of The Resilience Project's Parents & Caregivers Program based out of Newton-Wellesley Hospital (NWH). Juliana is a child and adolescent psychiatrist at NWH and Massachusetts General Hospital (MGH), and a part-time clinical instructor at Harvard Medical School. She also serves as Associate Director of the MGH Center for Cross-Cultural Student Emotional Wellness, which supports the emotional and mental health needs of culturally diverse students, with a particular focus on Asian American students. 
Tai is a clinical psychologist and Director of Parent Guidance in the Division of Child and Adolescent Psychiatry at NWH. As Director, she leads a team of parent guidance specialists and works closely with parents of children and teens being seen in the clinic. Before coming to NWH, Tai was Director of Certification at Think:Kids at MGH where she worked closely with parents and professionals both locally and nationally, training them in the Collaborative Solving approach. 
In addition to their respective work above, Juliana has an individual private practice in Cambridge, MA and Tai has an individual private practice in Newton, MA.
2:45 – 3:00 p.m. | Reflections
All attendees are welcome to attend and share their experiences and what they've learned.
3:15 – 4:30 p.m. | Self-Care Sessions
These sessions are designed to give you time to recharge, de-stress, and provide time for calm and focus. As educators, you have served your communities on the front line of the battle against COVID-19. This is a time to take a break and celebrate you! Choose from the following activities:
Relaxation Lounge and Chair Massages

Guided Yoga

Social Dance

Guided Meditation
Relaxation Lounge and Chair Massages
It's time to relax and de-stress. Enjoy a complimentary chair massage from clinicians at Boston Chair Massage. Reservations for massages will be on a first-come, first-served basis, so be sure to sign up as soon as you can.

Guided Yoga
Personal Healing Through Yoga and Energy Work
Erica Nunnally
During this session, Erica will hold the space for personal healing through meditation, asana (yogic poses), and energy work. Erica weaves humor, music, and drumming through her sessions to support your journey. Beginners are welcome and no experience is required, simply bring your curiosity and a smile. Dress for movement. Erica Nunnally is a master yoga teacher and Usui Reiki master teacher. She has been a full-time professional in the wellness and healing arts since 2008. Erica is the author of The Seven Practices of Wildly Successful Wellnesspreneurs; the creator of The Art of Zen Business (an incubator for wellness professionals), the originator of the Journey through 13 Moons (an online wellness program for womxn) and the founder of The Deep River School of Yoga. Erica teaches and leads workshops and retreats nationally and internationally, online and in-person.

Dance
Building Community and Connection through Social Dance
Rodney Eric López
Come express your joy through dance. Partner dance brings people of all backgrounds together in an activity that is fun, promotes healthy movement, and is joyfully social. Emerging from the COVID pandemic, the power and promise of social dance is even greater. In this session, Rodney Eric López will get you on your feet to quickly learn the basics of Merengue, Tango, and Swing. More importantly, the joy and excitement of friendly (and safe) social touch as you dance with your fellow participants will get us all one step closer to the normalcy we've all been missing. Rodney is a master dance instructor and former executive director of Dancing Classrooms in New York City, whose teaching work in schools is featured in the hit documentary, Mad Hot Ballroom. He is an Admissions Associate at The Gordon School in East Providence, RI.

Guided Meditation
Compassionate Communications
Lara Wilson
How might we feel more at ease while co-creating compassionate communities? Join Lara Wilson of Be Well Be Here to investigate the Language of the Self through principles of mindful meditation, non-violent communication and engaged self-expression. Explore meditative practices and personal journaling exercises that inspire a natural path to wellbeing within and around you. Discover ways to to infuse inner calm and a more mindful way of Being into your daily life, relationships, work life and broader community.
---
Attendees
Thank you to our 2022 Planning Committee! Their work has been essential to producing this year's conference.
Becky Biggs, Director of Professional Development, AISNE

Nikia Hackett, School Counselor, Chapel Hill Chauncy Hall

Jennifer Hamilton, School Psychologist, Noble and Greenough School

André Heard, Associate Dean of Students, Milton Academy

Tara Hofherr, Director of Elementary Programs/Director of Next School Counseling, Kingsley Montessori School

AJ Kizekai, Athletic Director, Moses Brown School

Rachel Maher, Operations Manager, The Village School of North Bennington

Olivia Moorehead-Slaughter, Psychologist, The Park School

Dr. Amy Patel, Physician and Wellness Educator, Phillips Academy

Adria Pavletic, Director of Health Services, St. Mark's School
We look forward to welcoming educators from across New England. Join your colleagues from the following schools:
Bancroft School
Beaver Country Day School
Belmont Day School
Berwick Academy
Boston University Academy
Burr and Burton Academy
The Cambridge School of Weston
Cardigan Mountain School
Chapel Hill – Chauncy Hall School
Charles River School
Cheverus High School
Concord Academy
Dana Hall School
Dedham Country Day School
Derby Academy
Dublin School
The Fenn School
The Fessenden School
Friends Academy
Glen Urquhart School
The Gordon School
The Governor's Academy
Green Mountain Valley School
Inly School
International School of Boston
Jewish Community Day School of Boston
Kimball Union Academy
Kingsley Montessori
Lesley Ellis School
Lexington Montessori School
Lincoln School
Loomis Chaffee
Maimonides School
Meadowbrook School of Weston
Milton Academy
Moses Brown School
New Hampton School
Noble and Greenough School
The Park School
Phillips Academy
Phillips Exeter Academy
The Pike School
Roxbury Latin School
The Sage School
Shore Country Day School
St. John's Preparatory School
St. George's School
Tabor Academy
The Village School of North Bennington
Waldorf School at Moraine Farm
Walnut Hill School for the Arts
Waynflete School
Wellan Montessori
The Wheeler School
Wilbraham & Monson Academy
Willow Hill School
The Winsor School
---
Thank You to Our Sponsors!