2022 Business Officer Retreat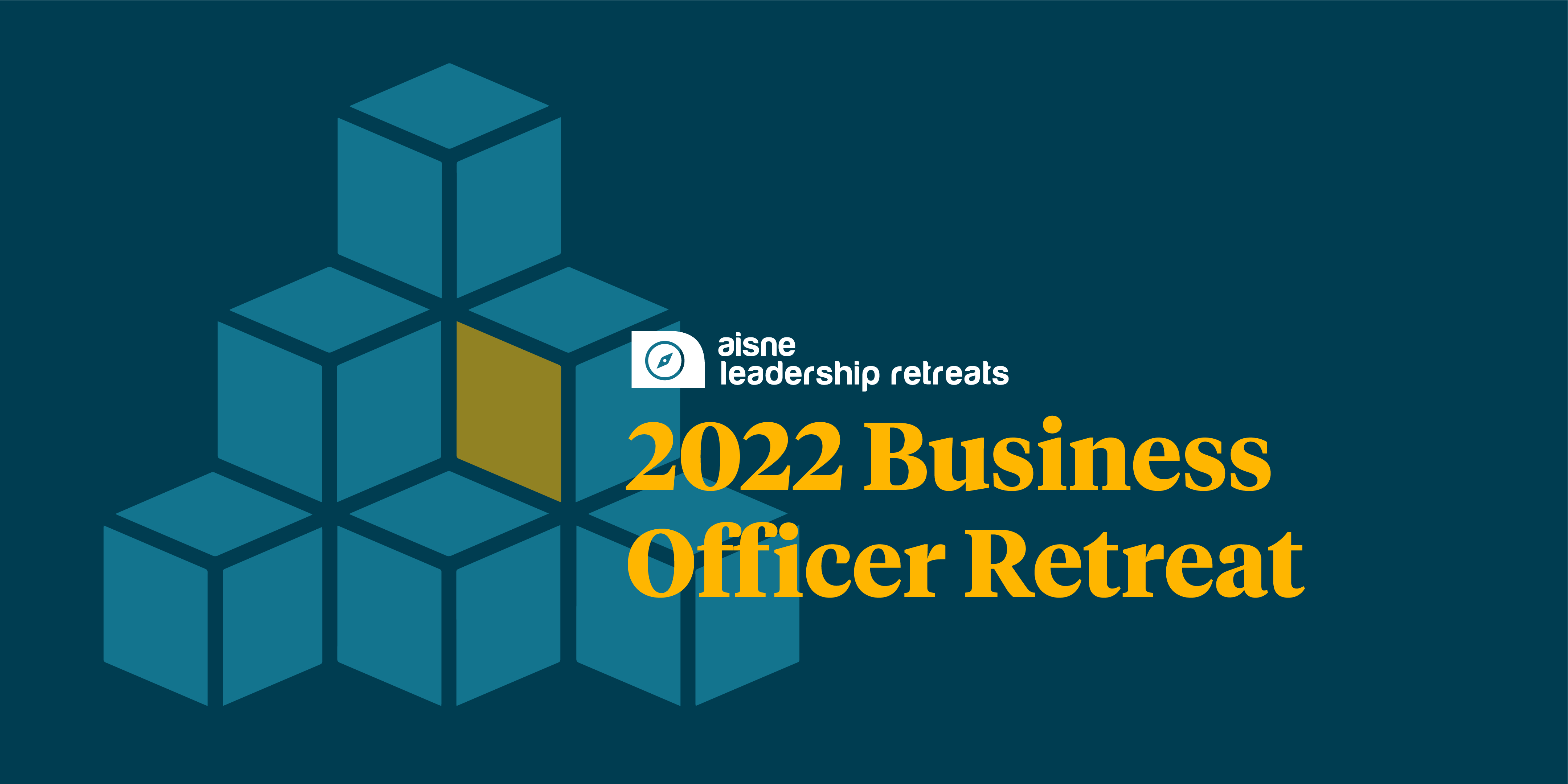 A hybrid retreat for all roles within the business office that is dedicated to considering the past and present challenges while committing to intentional work building capacity and leadership for the unknowns and opportunities of the future.
The AISNE 2022 Business Officer Retreat is a hybrid event. The first portion will be a 2-day virtual learning conference hosted on Zoom. The second portion will be an in-person networking, exhibits, and social event.
Retreat Dates:
Virtual: Wednesday, February 9 – Thursday, February 10 (via Zoom)
In-Person: Monday, April 4, in-person, 10:30 a.m. – 7:30 p.m.
In-Person Location:
Babson Executive Center
1 Snyder Drive
Wellesley, MA 02457
In-Person Registration:
$149 | In-Person
Includes lunch, dinner, and cocktails.
Registration is now closed for this event.

REGISTER HERE
Stay the Night
Stay the night of the event. Babson Executive Center has rooms available for our group.
$225 + tax/single
$245 + tax/double
All rooms include breakfast. To book, email Tricia Elassy and mention the AISNE Business Officer Retreat.
Want to to come in the night before? Nearby hotels include:
Boston Marriott Newton
2345 Commonwealth Avenue
Newton, MA 02466
Residence Inn by Marriott Boston Needham
80 B St
Needham, MA 02494
Sheraton Boston Needham Hotel
100 Cabot St
Needham, MA 02494
---
In-Person Event Agenda
Monday, April 4
Registration & Refreshments  | 10:30 – 11:00 a.m. EST
Welcome to the event with AISNE staff and your fellow participants.
Collaboration Café  | 11:00 a.m. – 12:00 p.m. EST
Attendees take turns during the Collaboration Café to provide a brief introduction to a particular topic followed by an invitation for other participants to share and comment. This time will allow for extended and informal topic-based discussions about the topics that mean the most to you.
Lunch  | 12:00 – 1:00 p.m. EST

From Insight to Action: An Opportunity to Look Inward and Plan Forward  | 1:30 – 3:30 p.m. EST
Lynn Bowman
During this session we will focus on you and your leadership. Whether you are the only person in your department or you lead a team of two or ten, continuing to build your capacity for greater self awareness and developing your skills as an effective leader are essential.
Emotional Intelligence, a key ingredient for effective leadership, is a set of emotional and social skills that collectively impact our capacity for decision making, self-awareness, self-perception, intrapersonal relationships, and stress management. Take time to self-assess yourself using a positive intelligence framework and learn strategies to improve your own social and emotional well being thus impacting the teams you lead.  We will spend time considering the following questions:
How are you showing up as a leader and how are you creating space for others?

How can you build stronger relationships with your team and colleagues?

What are your strengths to leverage and what leadership skills can you grow/amplify?
As we dig into our time together, we will devote time to your work, your role, and how you balance it all. We will also take some time to examine how who YOU are informs what you DO.
Join us for this time and push pause with your peers: reflect, converse, and share tools to bring back to your day-to-day work.
Exhibitor Session | 3:30 – 4:30 p.m. EST
This retreat, and AISNE's entire professional development portfolio of programs, are generously supported by our trusted and loyal community of Supporters and Corporate Partners. We sincerely appreciate your participation in our Exhibitor Session. There will be a fun networking game and as well as the opportunity to win raffle items that our Supporters and Corporate Partners will contribute in advance of the retreat.
Participating Exhibitors (as of 2/14/21):
Raffle | 4:30 – 5:00 p.m. EST
Win a variety of prizes, generously donated by AISNE's Supporters and Corporate Partners!
Cocktails & Conversation | 5:00 – 6:00 p.m. EST
Enjoy this time to be in community with your fellow business officers and build lasting connections.
Dinner | 6:00 – 7:30 p.m. EST
We'll conclude the retreat with a delicious dinner and conversation.
---
Registrant List
Thank you to the AISNE Business Leadership Retreat Planning Committee
Pictured above, left to right, top to bottom
Attendees
Nathalie Gonzalez, Applewild School
Christine Miller, Beacon Hill Nursery School
Joanne McDaniel, Beaver Country Day School
Fred Colson, Belmont Day School
Jonathan Douglas, Berwick Academy
Michael Hoyle, Boston College High School
Derek Dettorre, Boston University Academy
Tyler Butler, Brewster Academy
Susan Harrington, Brewster Academy
Letitia Howland, Brookwood School
Tara Gohlmann, Buckingham, Browne & Nichols School
Susan Ryan, The Cambridge School of Weston
Andy Griswold, Cambridge-Ellis School
Stephen Solberg, Cardigan Mountain School
Deb McCarthy, Carroll School
Veronica Phaneuf, The Center School
Gwen Pojasek, Chapel Hill-Chancy Hall School
Lily Yee, Charles River School
Michael Komich, Cheverus High School
Sarah Scola, Cheverus High School
Carl Young, Chewonki Foundation
Amy Fredericks, Concord Academy
Frank Gallagher, Concord Academy
Charles Breslin, Dana Hall School
Barb Fletcher, The Epiphany School
Michael Slater, Epstein Hillel School
Cheryl York, Erskine Academy
Stephanie Taylor, The Fenn School
David Platt, The Fenn School
Thomas Cicatiello, The Gordon School
Leslie Luneau, Heronfield Academy
Margot Riley, Holderness School
Walt Schaeffler, Holderness School
Richard Wilson, Inly School
Harshita Lakhiani, Jewish Community Day School of Rhode Island
Andrew May, Kents Hill School
James Bonsey, Kingsley Montessori School
Dean Sidell, Landmark School
Vanessa Craveiro, Learning Prep School
Vivian Lin, Lexington Christian Academy
Wendy Corlett, Lincoln Academy
Brenda Konopelko, Lincoln School
Rachel Jingst, Miss Hall's School
Lori Corry, Nantucket New School
Nicole White, Oak Meadow School
Janice Hatch, Oliverian School
Kimberly Boyd, The Park School
Lachelle McKinley-Connor, The Park School
Will Powers, The Pike School
Rachel MacDuffie, Proctor Academy
Erin Andrews, Quest Montessori School
Donna Strouse, Riverbend School
Gibson Smith, Rock Point School
Elizabeth Murzycki, The Sage School
Nicole Solari, Shore Country Day School
Carol Lyon, St. Johnsbury Academy
Crystal Rutledge, St. Johnsbury Academy
Jackie Fellini, Thayer Academy
Julaine McInnis, Thayer Academy
Glen Waring, Tilton School
Marge Pierce, Tower School
Jane Seagle, Walnut Hill School for the Arts
William Potter, Waring School
Carrie McColgan, Wayneflete School
Robert Constantine, White Mountain School
Karen Geromini, Winsor School
Register for the In-Person Event
---
Virtual Conference Agenda
Register for the In-Person Event
Wednesday, February 9
Collaboration Cafe

|
8:00 – 8:45
 a.m. EST
Attendees will take turns during the Collaboration Cafe to provide a brief introduction to a particular topic followed by an invitation for other participants to share and comment. This time will allow for extended and informal topic-based discussions about the topics that mean the most to you.
Break

 |
8:45 – 9:00
 a.m. EST
Opening Keynote

 

|

9:00 – 10:15
 a.m. EST
How Endowments Thrive in 2022 and Beyond | Scott Clemons, Partner, Chief Investment Strategist, Brown Brothers Harriman
The economy and financial markets will be forever changed by the COVID pandemic, whose ripple effects will continue to reverberate long after the immediate crisis has passed.  In this session, we will consider how trustees and investment committees should think about asset allocation and investing in the "new normal."

Break

 |
10:15 – 10:30
 a.m. EST
Deeper Dive Sessions

 

|

10:30 – 11:45
 a.m. EST
Cultivate Your Leadership Skills: Gain More Awareness of Your Leadership Presence and Strengthen Your Work with Your Team  | Lynn Bowman, Leadership Coach, and Consultant, Lynn Bowman Leadership Coaching and Consulting, LLC
Regardless of your specific role within the business office, you are tasked with the immense challenge of balancing extremely precise and exacting work day-to-day with the need to flex and adapt to work with other members of your team and school community.  This session will look at how business professionals may collaborate most effectively with the wider school community members. It will consider how to develop empathy and patience for other styles and approaches of accomplishing shared goals in our schools. This session is intended for members of the business office at every career stage.
Practical Strategies for Managing Risk During a Unique Winter in Independent Schools  | Linda Johnson, Attorney, McLane Middleton
Experienced education and employment lawyer Linda Johnson will facilitate an interactive session about hot topics for schools to consider as the academic year moves forward, such as: 
How to manage vaccinations for the newest eligible group and those who need a booster.

How to manage the process of reporting student discipline.

Effective approaches for dealing with parent pushback.

Updating faculty agreements for 2022-2023.

Jurisdictional philosophy

Tuition enforcement

Concerning student behavior on social media


Ensure the Integrity of Your School's Data: The Importance of and Advantages of Attaining Reliable Data  | Matthew Lang, Principal of Digital Transformation and Data Analytics, CLA & Eric Malloy, CFO, Eaglebrook School
Explore the function and necessity of a Data Integrity Task Force and glean important takeaways from one school's journey. Time will be spent focusing on the importance of reliable data and the technical side of attaining it. This session will be presented collaboratively with a CLA Digital Transformation – Data Analytics service expert and the CFO from Eaglebrook School.
Mission-Based Compensation: Designing Effective and Sustainable Compensation and Benefits Systems for Faculty and Staff  | John Littleford, Senior Partner of Littleford & Associates & Jim Hickey, Head of School, Austin Preparatory School
Independent schools need salaries and benefits that are financially sustainable, market-driven, flexible, fair, and transparent but also assist teachers and staff in planning their own career opportunities for growth and advancement. John Littleford, Senior Partner of Littleford & Associates, and Jim Hickey, Head of School at Austin Preparatory School will share lead you through the process they engaged in to design an effective and sustainable compensation and benefits plan.
---
Thursday, February 10
Collaboration Cafe

|
8:00 – 8:45
 a.m. EST
Attendees will take turns during the Collaboration Cafe to provide a brief introduction to a particular topic followed by an invitation for other participants to share and comment. This time will allow for extended and informal topic-based discussions about the topics that mean the most to you.
Break

 |
8:45 – 9:00
 a.m. EST
Opening  Session

|

9:00 – 10:15
 a.m. EST
Pulse Points The First Year of Peer Benchmarking Benefitting Schools Across New England
Part 1: A Bird's Eye View on the State of Independent Schools | Claire Leheny, Executive Director, AISNE
With the advent of AISNE's new benchmarking tool, Pulse Points, for the first time we are able to take a concentrated look at salaries, benefits, and key performance indicators of New England schools. This presentation will offer insight into the state of our industry, including areas of strength, opportunities to reposition, and notable findings from our surveys.
Part 2: Maximize the Value of Pulse Points in Your School  | Eliza Alexander, Managing Director, Northern New England & Alexander Noren, Director of Finance, Technology, and Research, AISNE
During part two we will share examples, practical tips, and tools to identify and use the benchmarking data you need for your strategic purposes. School-specific case studies will illustrate the variety of ways you can create meaningful reports and leverage them with your faculty, staff, and board.
Break

 |
10:15 – 10:30
 a.m. EST
Deeper Dive Sessions

|

10:30 – 11:45
a.m. EST
Embed Inclusivity in Your Practices and Procedures: Working with Contracted Service Providers  | Lawrence Alexander, Search Consultant, Diversity, Equity, Inclusion, and Belonging Practice, Carney Sandoe & Associates
Come to this session with a desire to embed inclusivity more into your practices and procedures within the business office.  Leave this session with questions to ask and steps you can take with your foodservice providers, transportation services, and maintenance. Consider intentional ways to avoid microaggressions and proactive ways to be more inclusive.
Captive Health Programs: Risks, Benefits, and Considerations  | Jon Douglas, CFO, Berwick Academy, Captivated Health, Steve Solberg, Cardigan Mountain School, Pareto Captive Services, LLC,  Jim Hoitt, Berkley Accident and Health Insurance & Charles McCullagh, CFO, Williston Northampton School
Explore the benefits of a captive health program as an alternative to the more traditional fully insured health insurance. Although most schools continue to use fully insured products, the strengths and potential upside of the captive model are significant. There are two major captive programs focusing on educational institutions; however, rather than focusing on one program over the other, this presentation will focus on the captive model generally. Presenters will demonstrate how a captive health program provides schools with budgetary latitude, a new financial lever, and an opportunity to change the nature of the conversation about health insurance from transactional to strategic.
Protect Yourself and Your School: Implement Best Practices to Help Mitigate Cybersecurity Risks  | Ileana van der Linde, Executive Director Asset & Wealth Management, JP Morgan Chase
Gain the knowledge to fight cybersecurity challenges personally and professionally. Explores key issues in information security and steps you can take and technological tools you may use to help resolve these issues. Takeaways from your time will allow you to plan and implement security strategies to reduce risk and enhance the protection of information assets and systems throughout your school community. This session will be interactive and address key topics including:
Email

Passwords

WiFi Networks

Internet Usage

Mobile Security

Malware

Social Engineering
Please Note: Ms. van der Linde's session will not be recorded.
Wrap-Up, Reflections, and Raffle

|

11:45 a.m. – 12:00
p.m. EST
---
COVID Guidelines
Providing a safe environment for learning is a top priority. We need your help to achieve this. We want to keep you safe and healthy!
All participants must be fully vaccinated; boosters are not required.
Testing is optional, but highly encouraged.
Masks are required in public areas of the venue (e.g. hallways, restrooms) when not actively eating or drinking, and optional in breakout and exhibit sessions.
We are grateful for the partnership with Fusion Cell in determining these mitigation strategies. Fusion Cell helps organizations navigate the impacts of COVID with science-based strategies that inspire confidence across all constituents.